Healthy Start 5K
The Jacksonville Landing
2 Independent Dr, Jacksonville, FL 32202, United States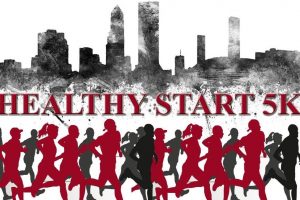 Saturday, January 5, 2019
5K at 8:00 AM | 1 Mile at 9:00 AM
---
About this Race
"Get off the Couch and MOVE!"
JOIN US!
The Healthy Start 5K Run welcomes both runners and walkers. The purpose of this charitable event is to raise awareness for the importance of living a healthy, fit and smart lifestyle. In addition to the run/walk, healthcare professionals will be in attendance to answer questions and provide insightful educational resources.
We encourage the Northeast Florida community and the city of Jacksonville especially, to come out to enjoy a nice run or walk to kick the new year off to a healthy start! We will have fun activities for the kids and family as we all work together to promote a healthy lifestyle.
A portion of these proceeds from this event will support the American Diabetes Associationand the Kappa Alpha Psi Foundation of Jacksonville.
The American Diabetes Association leads the fight against diabetes and fights for those affected by diabetes. They fund research to prevent, cure, and manage diabetes; deliver services to hundreds of communities; and educate and inform the community about diabetes.
The Kappa Alpha Psi Foundation-Jacksonville is a 501(c)3 non-profit organizations that has granted over $300,000 to students pursuing post-secondary and graduate degrees through its scholarship program. Additionally, the Foundation also continues to support the young men of Jacksonville through its Guide Right Leadership & Development Program.
Your contributions will help us support the mission to eventually find a cure as well as help those who suffer on a daily basis. Please consider forming a team of runners/walkers to participate in this worthwhile cause.
Entry Fees
| | | |
| --- | --- | --- |
| | 5K | 1 Mile |
| Through December 31st | $25 | $12 |
| January 1st- January 4th | $30 | $12 |
| Day of Race | $35 | $12 |
Sorry, there are absolutely no refunds or transfers!
Register Now!
» Click Here to Register Online
Online registration closes the day prior to the beginning of packet pickup. After online registration closes, you can still register in any 1st Place Sports store or on Race day.
In person:
You can register at any of our 1st Place Sports stores on our instore computers.
Packet Pickup
Packets will be available for pick up at your selected 1st Place Sports locations (listed below) onFriday, January 4th from 10:00 AM – 5:00 PM. All packets will be moved to the race site for raceday pick up beginning an hour before the race.
| | |
| --- | --- |
| Baymeadows Store: | 3931 Baymeadows Road, Jax, FL 32217 |
| San Marco Store: | 2018 San Marco Blvd., Jax, FL 32207 |
| Tapestry Park: | 9823 Tapestry Park Circle, Jax, FL 32246 |
Awards
Awards will be presented to the top three men and women overall, first master's male and female overall, and the top three in each of the following male and female age groups: 10 & under, 11-13, 14-19, 20-24, 25-29, 30-34, 35-39, 40-44, 45-49, 50-54, 55-59, 60-64, 65-69, 70-74, 75-79, 80+.
Team Awards will be given to the Largest Team, the Largest Fraternity Team, and the Largest Sorority Team. Stay after the race for the post race celebration! Food and drinks will be provided!
Course
Parking
There is parking available in the Jacksonville Landing Parking lot, located next to the Main Street Bridge. It has 250 parking spots and is open 24 hours a day. There are also a number of public parking garages and surface lots located within a few blocks. Parking rates vary in these lots. There is also metered parking around the Jacksonville Landing, which is free on weekends.
Sponsorship and Vendor Opportunities
We welcome and need the support of sponsors and vendors for the Healthy Start 5K Run.
Over 26 million Americans have diabetes and that number continues to grow. In fact, the Centers for Disease Control estimates that 1 in 3 Americans will be diagnosed by the year 2050. The American Diabetes Association is leading the way for all people affected by it. With the help of community partners like Kappa Alpha Psi, we are getting the word out about the risks, symptoms, prevention tools and management techniques to help put an end to diabetes.
As supporters, we must all work together to help promote, educate and encourage our children and the Northeast Florida Community to live a healthy and fit lifestyle. It's really up to everyone to simply start NOW and make the decision to "Get off the couch and MOVE!"
Download the sponsorship packet here.